On 28 January in Vilnius, the Minister of Foreign Affairs of Lithuania Linas Linkevicius met with the Mongolian Foreign Minister Luvsanvandan Bold to discuss political cooperation, the development of economic relations, transport links between the two countries and opportunities for Mongolian students to study in Lithuania, informs BC Lithuanian MFA.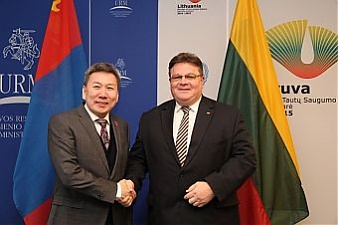 Luvsanvandan Bold and Linas Linkevicius. Vilnius, 28.01.2014. Photo: urm.lt
Currently, Mongolia's Foreign Minister is paying an official visit to Lithuania. The purpose of the visit is to strengthen bilateral political and economic relations, and to discuss cooperation between Lithuania and Mongolia at the multilateral level.
L.Linkevicius thanked his Mongolian counterpart for organizing a business seminar during the visit. The seminar provided an excellent opportunity for representatives of the two countries to discuss specific areas of cooperation.
The meeting focused on cooperation within international organizations, including the United Nations, the Organization for Security and Co-operation in Europe and the Community of Democracies. L.Linkevicius thanked Mongolia for its support to Lithuania's bid for a non-permanent seat on the UN Security Council and presented priorities for Lithuania's membership for 2014-2015.
The Foreign Ministers also discussed the enhancement of the dialogue between the European Union and Mongolia. According to L.Linkevicius, the EU-Mongolia Partnership and Cooperation Agreement, signed in April 2013, is an important step in expanding the political and economic cooperation between the member states of the European Union and Mongolia.
Lithuania exports pharmaceutical products, petroleum products, and office machinery to Mongolia.
Diplomatic relations between Lithuania and Mongolia were established on 11 December 1991.
Source:http://www.baltic-course.com/