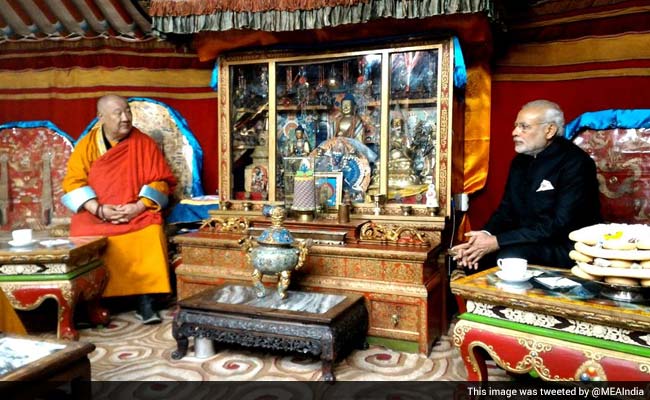 ULAN BATOR:
Prime Minster Narendra Modi today handed over a Bodhi tree sapling to Hamba Lama (Chief Abbott) of the Gandan Tegchilen monastery here in the Mongolian Capital.
Modi, the first Indian Prime Minister to vist Mongolia went to the Gir shrine dedicated to Lord Buddha.
The Hamba Lama D Choijamts held the Prime Ministers hand and took him around Vajra Tara temple where the Indian leader ddpaid obeisance.
Modi was taken to the sacred library at the temple which has exhibits of old sacred books.
The Prime Minister did a parikrama at the Janraisag monastery. He handed over a Bodhi tree sapling to the Hamba Lama.
Gandan is the largest and mosty significant monastery in Mongolia. Built in the mid 19th century, it is the only monastery where Buddhist services continue to function even during the Communist period.