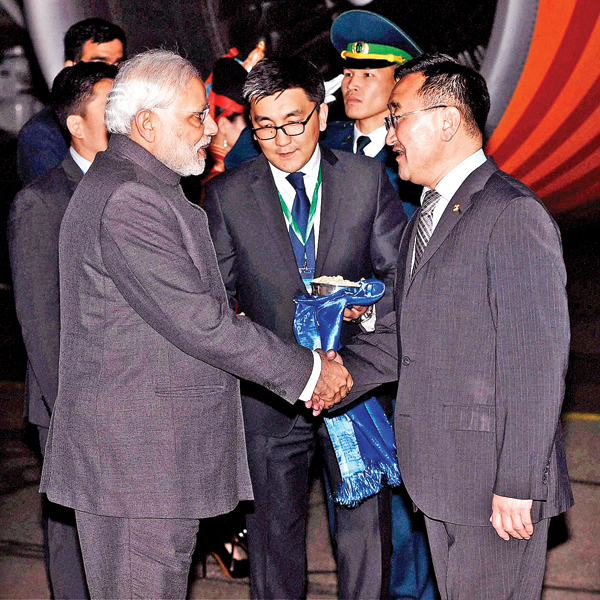 Narendra Modi being welcomed at the Chinggis Khaan International Airport in Ulaanbaatar on Saturday
PTI



While prime minister Narendra Modi's
China
visit is attracting a great amount of interest, his second leg of visit to
Mongolia
may bring colour to sleek, soft and seductive Kashmiri Pashmina shawl. Artisans and traders associated with shawl trade are awaiting the outcome of the first-ever prime ministerial visit Mongolia with a bated breath, hoping Modi will get them raw wool at reasonable prices at their door step. Modi's itinerary includes three-day official visit to China, a one day-stint at Mongolia and a concluding two-day visit to
South Korea
on May 18-19. Besides the political and economic engagement, secretary (East) in the ministry of external affairs Anil Wadhwa said the agenda also includes to explore possibilities of imports of Cashmere wool to help the world famous shawl industry in Kashmir to stay afloat. The shawl industry faces severe shortage of raw domestic wool.
Evoking images of exquisite quality, and synonymous with luxury and wealth, Pashmina, known as Cashmere in the rest of the World, is the fleece of high altitude goats found in Ladakh region of Jammu and Kashmir, China, Nepal and Mongolia. But Ladakh produces just 41 tons (1% of world production) of raw wool annually. As more than 10,000 goats perished in massive snowfall in 2013, the production has further dipped. Further, artisans say, even this meagre production is not made available to them, as industry representatives from Ludhiana and other fabric manufacturing places visit Ladakh and purchase wool from nomads, leaving them high and dry. "We are left to buy imported wool from China and Nepal and for that also there is no clear cut policy," says Delhi-based shawl trader and manufacturer Zafar Ahmed Bhat.
Bhat is excited at the PM's plan to import Cashmere wool from Mongolia. The quality of Pashmina wool is measured in terms of fineness. "Cashmere from Mongolia usually ranges from 11 -14 microns (micron is one-thousandth of a milimeter). We have been buying it from third country markets. The move to buy directly from Mongolian market will free us from several hassles" he said. The fineness can be imagined that a human hair measures 70 microns.
China produces 2/3rd followed by Mongolia, which contributes 1/4th of total 15,000 metric tonnes of world Pashmina wool production. In Ladakh a goat yields 100 to 250 grams of wool, but in Mongolia it yield 700-900 grams of wool.
Mongolia, a land-locked country in the east-Central Asia, has largely been neglected by the Indian leadership. Till now, only two visits at the presidential level have taken place. In 1988, R Venkataraman became the first Indian leader to visit Mongolia, and after a gap of 23 years, in 2011, Pratibha Patil became the second Indian President to pay a state visit to Mongolia.